Everyone is a drug dealer these days.
What's up Gym World?
In case you missed it, WeightWatchers (WW) recently acquired a telehealth company called Sequence for $132M—which rocketed WeightWatchers' stock 79% in one day.
Sequence is a $99/mo subscription plan that allows users to get prescriptions for semaglutides:
What are semaglutides?
💡 Semaglutides, like Ozempic & Wegovy, fall under a class of meds called GLP-1 RAs that help to reduce blood sugar. Ozempic is used to treat Type 2 diabetes and became viral for its main side effect: weight loss. Wegovy is designed for those who don't have diabetes but want to experience the weight-loss benefits.
Why should you care?
There's a huge market demand for semaglutides.
Some sources say that the market will be worth $200B in the next decade.
Sequence is an early mover and has managed to bring in $25M annually across 24,000 members since its launch in 2021.
Ro, a company best known for mailing out off-label Viagra, is also an early mover in the space. They claim to have over 150k weight loss patients for their $135/mo "Body Program." 🤯
WeightWatchers' Plan
Acquiring a telehealth company that focuses on semaglutides is a strategic move for WeightWatchers—here's why:
WW has a MASSIVE list of overweight clients AND Oprah.
Yes, Oprah.
She purchased 10% of the company back in 2015 and became a member of the board, increasing WW's market value by 105% in one day.
I can't think of anyone that is better positioned to market semaglutides to the 66% of US adults that are classified as overweight or obese.
Noom wants a piece of the action too
Weight loss app Noom recently announced that they're launching theirown prescription service for semaglutides.
Makes sense—they raised $540M in 2021 and probably want to show their investors something shiny and new.
They fired a bunch of their health coaches last year and hired their "first-ever" medical director for this project.
Like WeightWatchers, Noom will pair drug prescriptions with their weight management app.
Is BeachBody next?
💡 BeachBody rebranded to BODi back in March after its stock fell 97+% and the NYSE sent them a deficiency letter. The rebrand includes ditching the 'fitness & diet industry playbook.'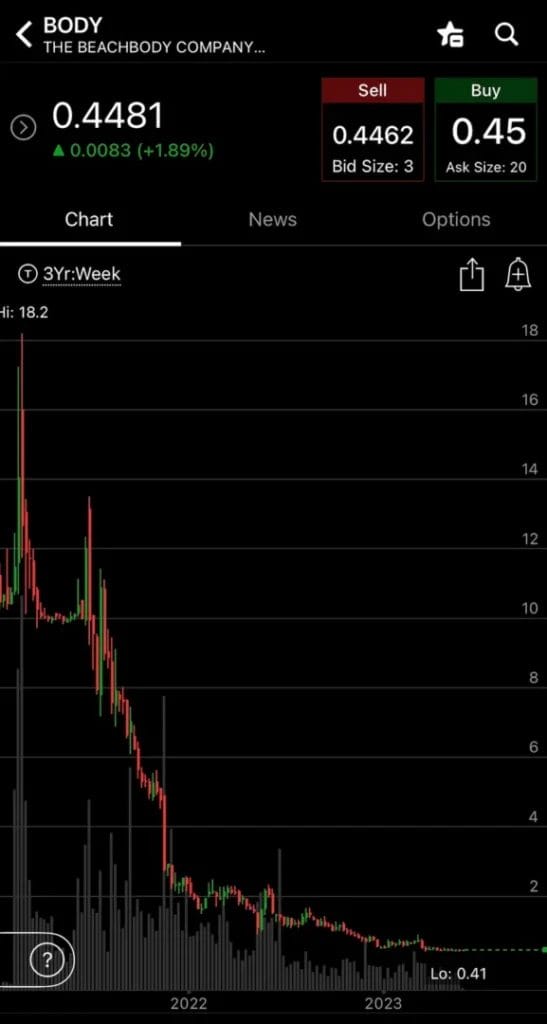 BODi is a "holistic fitness, nutrition, and positive mindset resource" for individuals looking to improve their "health-esteem," whatever that means.
Like WeightWatchers, they have a MASSIVE list of overweight prospects to sell to. According to an investor presentation, they also have 16M emails in their CRM.
I am sure they've seen WeightWatchers' stock and realized:
the demand for weight loss drugs is massive
they already have a huge database of people who struggle to lose weight
they're some of the best marketers in the fitness industry, and
a successful pivot into peddling weight loss prescriptions could send their stock ripping
CEO Carl Daimler claims that the company is in an ideal position to grow—and I agree. They have the resources, plus the right target market to follow the path being carved out by WeightWatchers and Noom.
Though BODi hasn't shown its hand quite like WW, I wouldn't be surprised if they were actively shopping around or considering launching something internally.
There are BIG implications for gym owners
1/ There will be a flood of companies entering the space. I'm already getting peppered with ads for semaglutides:
2/ These companies will compete for the same ad space as gym owners, and they will use similar copy.
They'll likely have an easier time selling to cold traffic because taking a shot once a week is way easier than going to the gym 3-4x a week.
3/ Don't ignore this trend. Barclays Bank estimates that the weight loss drug industry will be worth $100B by 2030. That's almost 3x bigger than the entire gym industry.
People who take these drugs will get better results if they exercise and eat right. If you're a brick and mortar gym owner, position yourself as the go-to coach for people taking semaglutides in your market.
A lot of med spas (places where rich people get botox and chemical peels) are currently offering semaglutides to customers—there may be partnership opportunities for enterprising coaches.
On the latest Gym World…
We sat down with Vince Gabriele—another gym owner who's built a 7-figure semi-private training gym. He shared a ton of valuable info on how to attract more clients to your gym, packaging & pricing small group sessions, & more. Watch it here.
See you next week,
j
P.S. I'll be speaking at the Two-Brain Summit. I'd love to hang out. Reply to this email and let me know if you're going.