These 4-steps will help you rank #1 on Google.
Buenos dias Gym World,
According to a study I just made up, when gym owners are met with the question, "What differentiates you from the competition?," the top two responses are:
"Our amazing community!"
"Our expert coaches!"
I've been in the fitness industry for a decade, and I can tell you that almost every gym lists these qualities on their website.
💡 Two things to consider here:
If every gym claims to have an amazing community & expert coaching, is this really a competitive edge?
How can a prospect assess your community or coaching from a website?
To answer these questions, I interviewed Kaleda Connell, the CEO of Kilo—a company that has built over 1,500 gym websites.
Here's what she said:
The forgotten platform
Google My Business (GMB) is the most common way your prospects discover local businesses.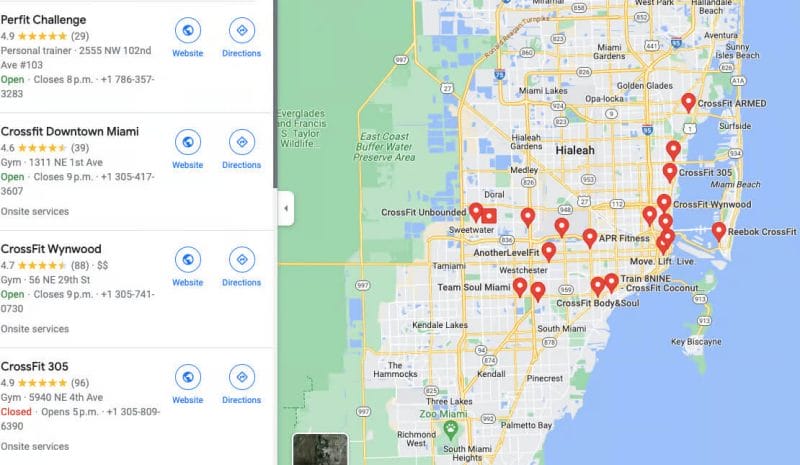 (This is the result I got when I looked up "CrossFit near Miami")
Most people see a gym's GMB before visiting its website. And while most gym owners understand the value of a good website, few spend time optimizing their GMB. It's easy to find gyms in major markets that spend $300/mo on a site and another $1,000-$2,000 on marketing, but have an incomplete GMB profile, outdated photos, or even incorrect contact info.
Kaleda says you should view your GMB a "living thing" and update it regularly. Not only does it show that you're active, but Google likes it and will push it to the top of the rankings.
👀 Kilo has something in the works that'll make it so your GMB is updated on autopilot. DM Kaleda if you want more info.
For those of you that don't want a done-for-you option, here are 4-steps that'll improve your GMB:
1. Get lots of reviews over a long period of time
The best thing you can do is have reviews with varying dates. It helps with your credibility and shows that others were willing to leave a few words about your biz. If you have a bunch of reviews over a short period of time—especially if it's shortly after a negative review—it's a red flag. 🚩
💡 You don't need a perfect rating to get people to come to you. More people will opt for a gym with a 4.8-star rating and 150 reviews than a 5-star rating with 6 reviews.
PRO TIP: You can automate the process of asking for reviews with Gym Lead Machine. If you don't want another piece of software—set up a 15m weekly meeting in your calendar and use that time to text two of your favorite members and ask for a review.
PRO TIP 2: Run your member email addresses through the "Find Friends" tab on Yelp and look for Elite Yelpers in your gym. These people are good at writing reviews and are probably crossposting their reviews to Google.
2. Respond to good & bad reviews
It shows that you value your clients' experience, you're aware of what's being said about you, and you're mature enough to handle uncomfortable matters. For example:
PRO TIP: Even the best gyms get bad reviews. It's a cost of doing business.
A common mistake gym owners make when dealing with negative reviews is that they try to fight crazy with crazy.
Your job isn't to convince the person that wrote the review that they're wrong. Your job is to convince a logical third party that you're a well-run business. Try to keep your response fact-based and rational.
Don't be like Greg's wife:
3. Post photos that capture your facility & its community
People wanna feel out the vibes of your gym. If you actually have an amazing community—showcase it.
FitTown Jupiter does a great job of making their gym look like a vibrant place to hang out and meet cool people:
If you don't have a great community or a packed gym, fake it.
It's better than posting pics of sad, empty classes.
When fellow gym owner Cassie Day was running empty classes out of a dingy basement, she would rent beautiful locations and hire models for her photos (and it worked!)
4. List correct hours, contact info & services
Want to get a bad review? List incorrect hours on your GMB. Nothing triggers a busy Mom more than spending 30 precious minutes driving somewhere only to show up and find that it's closed.
PRO TIP: List some products and/or services on your GMB. It'll make your listing look more complete in the eyes of Google and give you a small edge over your competitors that skip this step.
🔄 Recap
If you're a gym owner, doing these 4-steps will make you have a stand-out GMB:
Get lots of reviews over a long period of time
Respond to good & bad reviews
Post photos that capture your facility & its community
List correct hours, contact info & services
Wanna hear more?
Kaleda shared all the tips n' tricks every gym owner should know to rank their gym #1 on Google, including ways to nurture leads and how to prove you're the best solution for someone's fitness journey needs. It's all on the latest Gym World.
Until next week,
j