How a guy with no formal training bootstrapped his nutrition business to $10M/yr by breaking every rule in the book.
Picture this:
It's 2015, and you just quit your corporate job to go all-in on your nutrition coaching side hustle. At this point, you coach 350 clients 1-on-1, and you have no formal training in business or nutrition—that doesn't stop you.
You're deviant. You break almost every rule in the fitness guru handbook. Instead, you focus on the one thing that appears to grow the business.
7 years later, your little side hustle generates $10M a year, and you decide to sell to a global fitness franchise for 8-figures.
Your name is Mike Doehla—the former CEO & Founder of Stronger U Nutrition—now retired and fully focused on dad life.
Here's his story:
Creating something that didn't exist
The goal was simple: build an inexpensive 1-on-1 macro-based nutrition program backed by a strong community.
At the time, there were plenty of people coaching nutrition, but according to Mike, "you wouldn't believe how difficult it was for people to find a nutrition company that embraced its community."
Bootstrapping a business requires sacrifice and resourcefulness. To make his vision a reality, Mike didn't follow many of the best practices peddled by fitness gurus.
For instance:
Guruism: charge a premium price
In 2015, most nutrition programs ranged from $500-$800 for a 3-month period of 1-on-1 coaching. Mike started out by charging $120.
He said by charging a low price point he was able to:
1/ Build an initial client base
2/ Deliver a ton of value for the price the clients paid
That initial group of clients LOVED Stronger U. They referred friends who referred friends who referred friends.
In biz, a viral coefficient is the number of new users an existing user generates. Stronger U had a high viral coefficient, which meant the company grew just from referrals.
2-years into the biz, Stronger U was doing $300k/mo.
Fun fact: Mike grew his business without spending a penny on paid ads.
That said, he spent a shitton of money on marketing.
Marketing is adding value, not trickery.
Jon Goodman
In fact, Mike wrote a book about the guerrilla marketing tactics he used to grow Stronger U.
To drum up business he:
Went to bookstores and put his business card in every nutrition book
Paid for a bunch of people's coffee and sat at a table near the register with a sign that said, "Hi, I'm Mike. Ask me nutrition questions, even if I look busy… if you're shy, go to strongeru.com"
Taped business cards on junk foods with a message that said, "You can eat this on our program."
Partnered with boudoir photographers
Gave away vacations and often gave his clients gifts
Guruism: don't discount
Mike views discounting as a form of marketing & customer service and isn't afraid to express that opinion:
Guruism: hire help so you can work ON your business instead of IN your business
In the beginning, Mike worked with all 350 clients 1-on-1. That's 50 check-ins a day. 7 days a week. On top of all the admin and marketing for the business AND a full-time corporate job.
While he admits this wasn't sustainable, the early work he did was instrumental in building a fanatic community.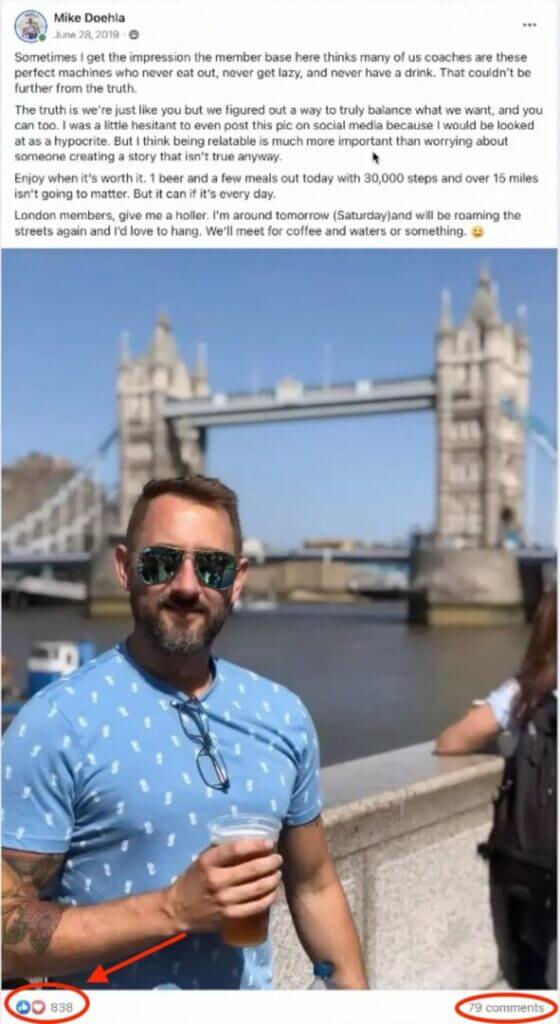 When Mike made his first business hire, Stronger U was doing over $3M/yr in revenue.
Guruism: work smarter, not harder
Mike did a lot of stuff that didn't scale.
He claims he worked 24/7. Every single client had his personal cell phone number. He lost sleep, ensuring that everyone was taken care of. He responded to every Facebook comment about Stronger U regardless of when it was posted.
In his words, business is "like an Olympic sport," and you need to make sacrifices if you want to win.
Guruism: your business NEEDS systems
At scale, Stronger U had 80 coaches. The business was run off of Google Sheets. There were no:
Management layers → Mike hated managing others
Meetings → there was extreme trust in coaching knowledge & experience
Fancy quality control → receiving positive feedback from customers was the only factor used to monitor coaching success
What Mike did RIGHT
Mike focused on one thing that enabled Stronger U to scale to $10M:
Thrilling his customers.
It's counterintuitive, but the way to grow your business is to focus entirely on your existing customers. Just thrill them, and they'll tell everyone.
Derek Sivers
He did that by:
1. Responding quickly
Stats show that the average lead response time is 47 hours. Mike and his staff tried to respond in less than a minute.
At the time, nutrition companies were bragging about their 24-hour response time. Mike said that's a ridiculously long time to wait when it comes to nutrition.
2. Delivering value far in excess of what he charged
Mike sold $400 body transformations that got people absolutely shredded (I was one them).
Getting shredded for $400 is a damn good value.
When people asked his clients, "what are you doing to get so yoked?" they happily talked about Mike's program.
At their peak, Stronger U was bringing in around 700 new members/mo.
3. Building a cult-like community
The Stronger U Facebook Group was one of the most active nutrition communities on the internet. It served as part motivation and part group therapy.
Mike strategically left people in the group after they canceled their service—so they could see all transformations happening in the program—this led to ex-clients reactivating.
Final word for gym owners
Hearing Mike's story, there's one thing I'd like for you to takeaway:
You don't need a grand vision or be the most intelligent business mogul in the room to be successful. Mike didn't have either. Instead, focus on the one thing that matters—helping people get results today.
Mike Doehla on Gym World
If you wanna hear the story from Mike himself, check out this week's Gym World:
Available on Spotify and Apple for your next road trip.
Until next week,
j