One of the biggest mistakes we see gym owners make is attempting to be all things to all people. This makes your marketing efforts not only challenging but also less effective, and you will struggle attracting the right people to your gym.
Fortunately, there is a proven strategy that can make your life easier as a gym owner and improve your marketing: the creation of a clear customer avatar.
Keep on reading to find out how you can craft the perfect customer avatar, transforming your gym into a magnet for your dream clients.
Let's Review: What is a Customer Avatar?
A customer avatar is a snapshot of your dream client. It paints a clear picture of your perfect gym member and helps you understand who your gym serves.
By establishing a well-defined customer avatar, the process of tailoring content, programs, and services becomes easier. You know exactly who you are talking to, allowing your messaging to resonate with your target audience and making it easier to attract the right clientele to your gym.
The top fit pros in the industry have crystal-clear insight into their target market. By incorporating a customer avatar into their strategy, they get more qualified leads—which is exactly what you want.
Remember, it doesn't take long for someone to visit your gym's website and determine whether or not your facility is the right fit for their needs. That's why getting ultra clear on your customer avatar is important; the more specific it is, the better.
How to Create the Perfect Customer Avatar
Every gym owner should have a customer avatar; it's not something to skip or rush through. There are many details taken into account in order to make it right. That's why we are showing you a three-step process on how to create the perfect one for your gym.
Our goal is to help you figure out what your dream client wants and why they will find what they are looking for at your gym. Let's dive in:
1. Dig deeper on your current members
A great starting point to attracting your dream client is by looking at your gym's current member base and identifying your best clients. These are people that you ultimately want to bring into your gym.
Two-Brain Business has an easy exercise that can help you with this—all you need is a pen and a piece of paper. It goes like this:
draw a vertical line down the middle
left side → dollar sign (list 10 top-paying clients)
right side → smiley face (list 10 clients who make you the happiest)
You will likely jot down some of the same client names under both columns. That's who you want to attract to your business.
2. Gather more data
Now, you need to collect more details about your best clients and identify the common traits they share. This will help you narrow your focus, creating a clear customer avatar.
Some basic info you will want to think about includes:
Demographics — Age, race, ethnicity, gender, marital status, education, employment, income, location, etc.
Goals and Desires — What are your clients trying to achieve?
Fears and Implications — What challenges or pain points do they experience?
Writing these factors down in a chart, like this one, may help:
You can gain an even deeper understanding of your members by examining their buying habits and how they source information. This way, you step into the mind of the consumer and get a better glimpse of their behavior.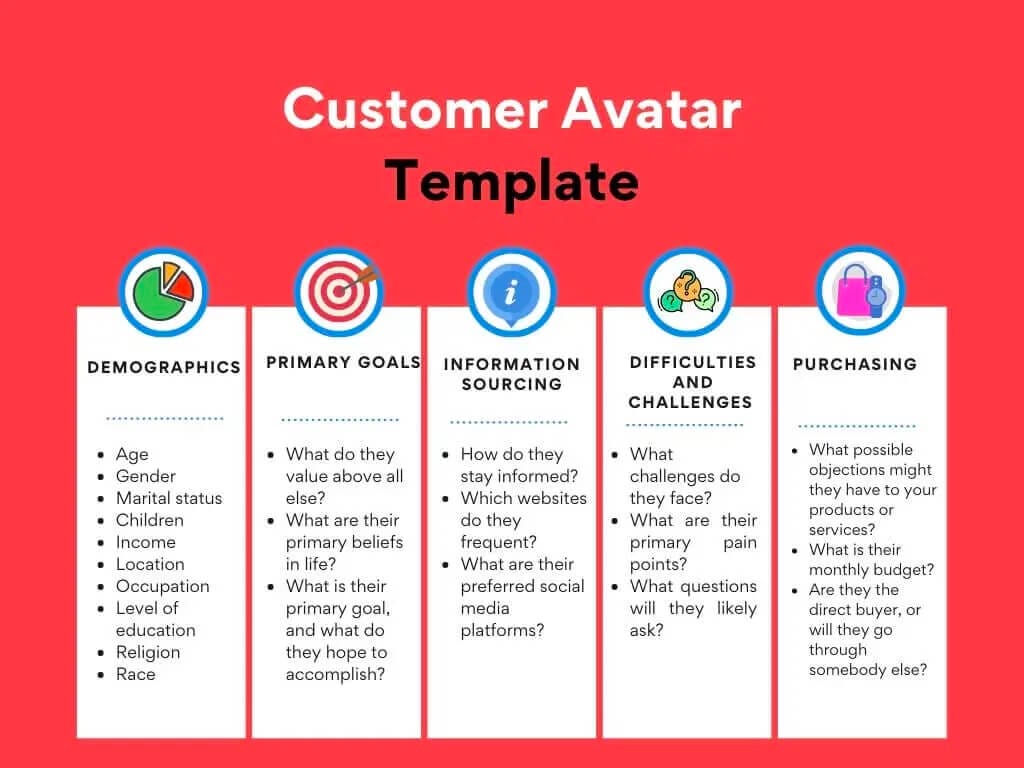 (Source: TheHoth)
At this point, you will have a really good idea of who your ideal customer is, what they want, why they would pick your gym, and how they are likely to engage with your business.
3. Build your avatar
You have all the information you need—all that's left is to plug it into a worksheet. If you like getting creative, this is the fun part.
Here is an example of what your customer avatar worksheet could look like:
(Source: Lectera)
There are free templates available online for you to get started, or if you prefer something more customized, feel free to craft one yourself to suit your needs.
Ready to Attract More Dream Clients to Your Gym?
A clear customer avatar is key to helping you understand what your ideal client wants and why your gym is the right fit for their needs.
To make one, follow these steps:
Find out who your best members are
Collect data to learn what these members have in common
Fill out a detailed profile of your customer avatar on a worksheet
By doing this, your gym's marketing becomes easier and you will draw in the right people to your business.