Over two billion people are scrolling through Instagram feeds every month, which means ignoring this platform is no longer an option for gym owners. But why is this handy little app such a game-changer for your fitness business? Allow us to explain.
Picture this: a potential client, smartphone in hand, checking out fitness tips and inspiration on Instagram. They discover your gym, its active community, engaging posts, and start envisioning the potential for their fitness journey. That's the power of Instagram – it offers a visual, interactive platform for you to connect with your audience in ways that no other social media channel can.
So why should your gym use Instagram? Great question. Whether it's showcasing your gym's facility, highlighting transformation stories, or sharing quick workout tips, Instagram offers diverse opportunities to connect with current members and reach potential ones. In fact, [two-thirds] of profile visits come from Instagram users who don't even follow the profile. By using Instagram effectively, it can lead to increased memberships, stronger community engagement, and a powerful online presence for your gym. But how do you harness this potential?
Our comprehensive guide on using Instagram as a gym owner will show you how. By the end of this article, you'll know how to use Instagram's unique features to their full potential, engage with your audience effectively, and turn your gym's Instagram profile into a top-notch marketing tool. Here's what you can expect:
Understanding Instagram as a Platform
Building an Effective Instagram Profile
Developing a Robust Content Strategy
Leveraging Instagram Stories and Highlights
Your Go-To Checklist for an Optimized Instagram Profile
Let's dive right in!
Understanding Instagram as a Platform
Instagram is a versatile platform offering a variety of features, each with unique potential to engage your audience and grow your gym business. To fully maximize Instagram, you need to understand and utilize these features effectively. Here are some of the app's features you'll want to use for your fitness business:
Photo & Video Posts
These are the backbone of your Instagram presence, appearing on your profile and in your followers' feeds. Regularly sharing high-quality images or videos of your gym, members, fitness routines, or client testimonials can keep your audience engaged and attract new followers. These can either be individual photo or video posts, or in the form of a carousel.
(Source)
Carousels
These allow you to post a combination of up to 10 photos and videos all in a single post for users to swipe through. Not only can your provide more information to your audience in an interactive manner, but you can also reach a greater audience and achieve a higher engagement rate. Instagram carousels get 1.4 times more reach and 3.1 times higher engagement rates in comparison to single photo or video posts.
Reels
You've probably heard of TikTok and YouTube Shorts, and perhaps you've heard of Instagram Reels. Reels allow you to post 90-second videos to your feed and are the perfect solution for sharing quick fitness tips, workout tutorials, or glimpses of your in-gym experience. With the rise in popularity of short-form video content (thanks to our short attention spans), Reels are critical in driving your Instagram's growth. Over 140 billion Reels play across Instagram each day, which means there is plenty of opportunity to reach a greater audience. Some users have seen a [280%] increase in engagement just from posting Reels alone! Here is an example from programming expert, Jason Brown:
Stories
Instagram Stories offer a more casual and immediate way to connect with your followers. They appear at the top of the Instagram app and are perfect for sharing behind-the-scenes content, quick updates, or interactive elements like polls or Q&A sessions. Because Stories disappear after 24 hours (unless saved to your profile as Highlights), it's a great way for your gym to experiment with different types of content. Plus, if one of your clients posts content related to your gym, you can show customer appreciation by reposting their posts or Stories to your own Instagram Stories! Isn't that neat?
Highlights
These are collections of past Stories that you can display permanently on your profile. You can categorize your Stories into themes such as 'Member Stories,' 'Workout Tips,' or anything else that reflects your gym. This allows all Instagram users, whether they are followers or not, to have a sneak peak at what your gym offers at any point in time.
Live
Want to engage with your audience in real-time? Instagram Live allows you to stream real-time video to your followers, who can interact with you directly through comments. For example, you can host live workout sessions or Q&As to create authentic and engaging experiences. Again, this is a great way to connect with your audience while humanizing your gym's brand.
Building an Effective Instagram Profile
Think of your Instagram profile as your gym's digital storefront—a well-crafted profile can make the difference between gaining a new follower, a new lead, or losing a potential client. In fact, 47% of prospects consume at least 3-5 pieces of content before reaching out to make a buying decision. That being said, here are 8 tips to optimize your gym's Instagram profile:
1. Public Profile
By making your gym's profile public and opting for a Business account, this ensures maximum accessibility for all Instagram users. Setting up an Instagram Business Account allows you to select the industry you belong to, so as a gym owner, you'll want to list your profile as "Gym/Physical Fitness Centre." You'll be able to access your account's insights, as well as add a contact button on your profile where you can choose to display either your gym's phone number, email, or business address. It's another way for Instagram users to understand who you are and where to find you when they visit your profile.
2. Username
We can't stress this enough—make your username identifiable. It should be easy to read and memorable (hint: your handle should be the same—if not, very similar—to your fitness business's name).
3. Profile Picture
Use a high-quality image such as your gym's logo, so that it's easy to view and recognizable. It will make it easier for Instagram users to find your profile and identify your gym. Plus, it's timeless and remains consistent with your fitness business's brand.
4. Bio
Your bio is key in conveying what your gym offers—think of this as your summary and what a potential client would want to know right off the bat. An Instagram bio has a max character count of 150, so be sure to be clear and concise. Some information you'll want to showcase include:
What services your gym offers
Who you serve (i.e., your dream client)
Link in Bio
Here is an example:
5. Link in Bio
The Link in Bio is a game-changer for capturing leads, and can help your gym emphasize its specific calls-to-action in a clear and direct manner. Setting up a Linktree will help you organize all of your relevant links. We recommend having 3-5 links, as this simplifies the decision-making process and helps motivate your audience to take the next steps.
Here is a beautiful example:
To learn more on how to simplify your gym's Link in Bio, check out this post.
6. Post High-Quality Content
High-quality content allows your gym to showcase its offerings, establish your brand identify, engage your audience, and attract potential clients. Great content visually captures the essence of your gym, from the facility and equipment to the atmosphere and community, which serves as an opportunity for you to show off what makes your gym unique and appealing to profile visitors. When posting to your Instagram profile, make sure to capture your gym's logo within your content, as this helps keep your branding consistent and identifiable. Posting client testimonials or member stories is a great way to celebrate your clients, but also prove that your gym's services help others achieve their health and fitness goals.
Another part of posting high-quality content comes from the quality of the photos and/or videos themselves. Using high-resolution will make your posts more attractive, so you may want to hire a professional photographer every once in a while. This is a very common practice amongst many gym owners, including Cassie Day—the Founder & CEO of All Day Fit—who brings in $85k each month using her gym's Instagram page. Take a look:
7. Engage With Your Followers
Engaging with your audience on Instagram is essential for many reasons. Firstly, it helps build and foster a strong, connected community. If you're constantly interacting with your followers, you will make them feel valued and heard. Secondly, engagement can provide your fitness business with valuable insights. Comments, messages, and even poll responses can offer feedback about your gym, services, and content. This direct communication between you and your audience can help you as a gym owner understand their needs and preferences. That being said, here are some ways to engage your audience:
Interactive Stories: utilize the interactive features in Instagram Stories such as polls, quizzes, or the 'Ask Me Anything' sticker to spark conversations.
Respond to Comments and DMs: make it a point to respond to all of your comments and direct messages. This interaction shows your audience that their opinions and questions are valued. And, remember to respond quickly! Speed to contact helps to build trust and convert leads into members.
User-Generated Content (UGC): encourage your members to share their own content related to your gym and repost it on your feed or Stories. Remember to tag your members when you do so!
8. Have a Clear Call to Action
Each post should be meaningful and serve a purpose, encouraging your audience to take action. Do you want them to sign up for a sales appointment? Book a class? Visit your gym's website? Be sure to include a call to action in your captions and graphics. Doing so, you'll create a sense of urgency and motivate your audience to take further steps.
Developing a Robust Content Strategy
Content is king, and the best way to be successful using Instagram is by creating engaging and authentic content that resonates with your audience. As a gym owner, it's important to understand that though creating content may be time-consuming or difficult, it should be secondary to your in-gym experience. Here are a few tips that can help you help you create a sufficient content strategy:
Create a Content Calendar
Regular and consistent posting on Instagram is crucial, and proves that you are an active account. If you're a gym owner, a content calendar can help you plan and organize your posts in advance to keep you on track. Doing so, you'll avoid feeling overwhelmed the day-of posting content, and avoid struggling with what to post. Try having a brainstorming session at the beginning of each month to plan out content that you'd like to post each week throughout the month. Ideally, you should be posting 3x a week or more.
But if you're running low on time, we have the perfect tool for you to use (and it's free!). Our Ultimate AI Guide for Gym Owners includes prompts that will help you create content in less time using ChatGPT. Here is an example of a 7-day content calendar generated by one of our prompts (it took under a minute to generate!):
| Channel | Day of Publication | Post Type | Post Topic | Post Headline | Required Visuals |
| --- | --- | --- | --- | --- | --- |
| Instagram | Day 1 | Carousel Post | CrossFit Beginner's Guide | "New to CrossFit? Swipe Right for Your Quick Start Guide!" | 1. Infographic on CrossFit basics 2. Step-by-step photos of basic CrossFit movements 3. Before-after photos of transformations |
| Instagram | Day 3 | Video Post | Correct Form and Technique | "Perfect Your Form: Avoid These Common CrossFit Mistakes!" | 1. Video demonstration of common mistakes and correct techniques in CrossFit workouts |
| Instagram | Day 5 | Story and Post | Member Success Story | "Meet [Member Name]: A Journey of Transformation Through CrossFit!" | 1. Photo of the member in the gym 2. A series of before and after photos showcasing the member's progress 3. (For Story) Short video clips of member's workout, interview |
Optimize for Engagement
Receiving likes and comments on your posts are great, but they don't determine its success. Two of the most powerful buttons to exist on a post are the "share" and "save" buttons. If someone finds your post interesting, they can share it with others beyond your following, which means a greater audience will be reached—this is often the case for Instagram Carousels. Jason Brown, a programming expert, gets over 400k impressions because of this.
Alternatively, by saving a post, someone can easily locate that piece of content for future reference.
Be Authentic & Provide Value
Authenticity resonates with users. Sharing behind-the-scenes content, showcasing your members and trainers, and consistently posting to your story can help you express your gym's authenticity and human element. On the other hand, educating your audience builds trust and helps position your gym as a go-to source.
Leveraging Instagram Stories and Highlights
As we've previously mentioned, Instagram Stories is a powerful tool for real-time engagement with your audience. Here's how you can make the most of it for your fitness business:
Share Behind-the-Scenes Content
Stories are perfect for sharing casual, less polished content. You can give a tour of your gym, share sneak peaks of classes, show a day in the life of a trainer, share the setup process for a class or event, provide shoutouts to your members, and so much more!
Share Posts
More people are likely to scroll through Instagram Stories than their feed, meaning that Stories provide greater reach. If your gym created a new post, you can share it directly to your Stories for more of your followers to see. If a member shared a post and tagged your gym, you can also share their post to your Stories.
Interactive Elements
Utilizing polls, quizzes, or the 'Ask Me Anything' feature will help you engage directly with your followers. Stories are also a great way to link directly to some of the products and services that your gym offers.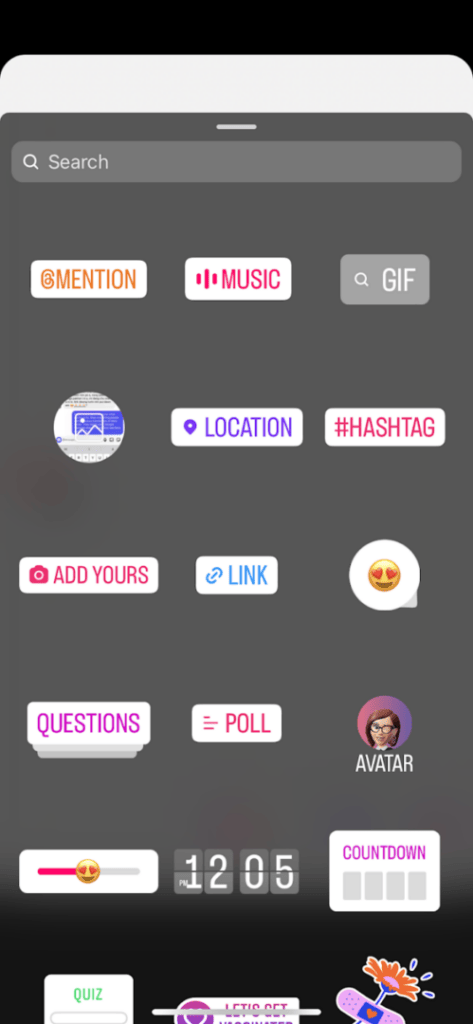 Story Highlights
Highlights are an excellent way to categorize your past Stories into different themes, such as 'Client Testimonials,' 'Programs,' 'Our Trainers,' and more. This can serve as a quick portfolio for new followers to learn about your gym. You can design attractive and consistent covers for each Highlight to help maintain a professional and cohesive look on your profile.
Experience the Benefits of an Optimized Instagram Profile
We've covered a lot of information to help you, dear gym owner, maximize the potential of your fitness business's Instagram. Let's quickly recap some things that you can do to have a stellar Instagram profile:
Your username is identifiable
Logo is easy to view
Listed as Gym/Physical Fitness Centre
Location is visible
Who you serve
Link in Bio

Link in Bio: has <5 call-to-actions
Link in Bio: has lead capture

Posting regularly (3x a week or more)
Calls-to-action within posts
Content is compelling to prospects
Posts are on brand
Comments by clients/prospects have been responded to
Member stories
Members are tagged in posts
Remember, Instagram isn't just a platform for sharing photos—it's a powerful marketing tool that, when used effectively, can bring remarkable results for your gym. By implementing these steps into your Instagram strategy, you will leverage your profile to boost your gym's visibility, engagement, and attract prospective clients. We hope this helps. Happy Instagramming!
Additional Resources
Want to learn more about social media and master your content skills? Check out the following resources:
Don't be afraid to DM your followers (watch)