Steal his simple business model
What's up Gym World?
If your background is in CrossFit, the name Rick Mayo may not be familiar, but in the rest of the industry, he's kind of a big deal.
Some refer to him as the "godfather of small group personal training."
Since 1992 he's run Alloy Personal Training, and through trial and error, he's developed a simple model that he now is franchising.
And it's taking off. In fact, Gym World's very own Mark Fisher loves it so much that he bought a franchise.
Here's the model that Rick is using to scale to 200 locations in five years:
1. Start with your dream customer in mind
Ask a gym owner: "what is your target customer?" Most will say, "Anyone who is looking to lose weight."
On Gym World, we've seen time & time again that the most successful fitness entrepreneurs are incredibly specific about who they serve.
Rick started with his dream customer and dream pricepoint, and then worked backwards to build a concept they'd love.
Rick targets people between 40- to 60-years old who
are type A
successful
have flexible schedules, &
live in expensive suburban neighborhoods
There are plenty of concepts that are fighting over this customer, so here's what he does to stand out:
Location
Alloys are located in shopping centers where his dream clients shop. This makes it easier for franchisees to "pound the pavement" and develop relationships. Also, being around premium brands makes his brand feel more premium.
Language
Alloy is specific about the language their franchisees use. They want to be perceived as a personal training space, and they want to be anchored to personal training prices. For example:
They deliver small group personal training not semi-private training. Lots of people search for personal training, and very few search for "semi-private training." This makes it easier to rank for a more valuable keyword.
While Alloy coaches can train up to 6 clients simultaneously, everything is referred to as a session because you don't go to a personal training class; you go to a personal training session.
Look
Alloy HQ invested heavily in architects and interior designers. They want their spaces to feel premium and timeless to their dream client.
Details matter here. Everything from the color choice, the front desk placement, how equipment is organized, and what light fixtures are used—are chosen with their avatar in mind.
He thinks the current trend of black spaces with hexagonal lighting, which he refers to as the "Russian vodka bar look," attracts the wrong type of person and will go out of style.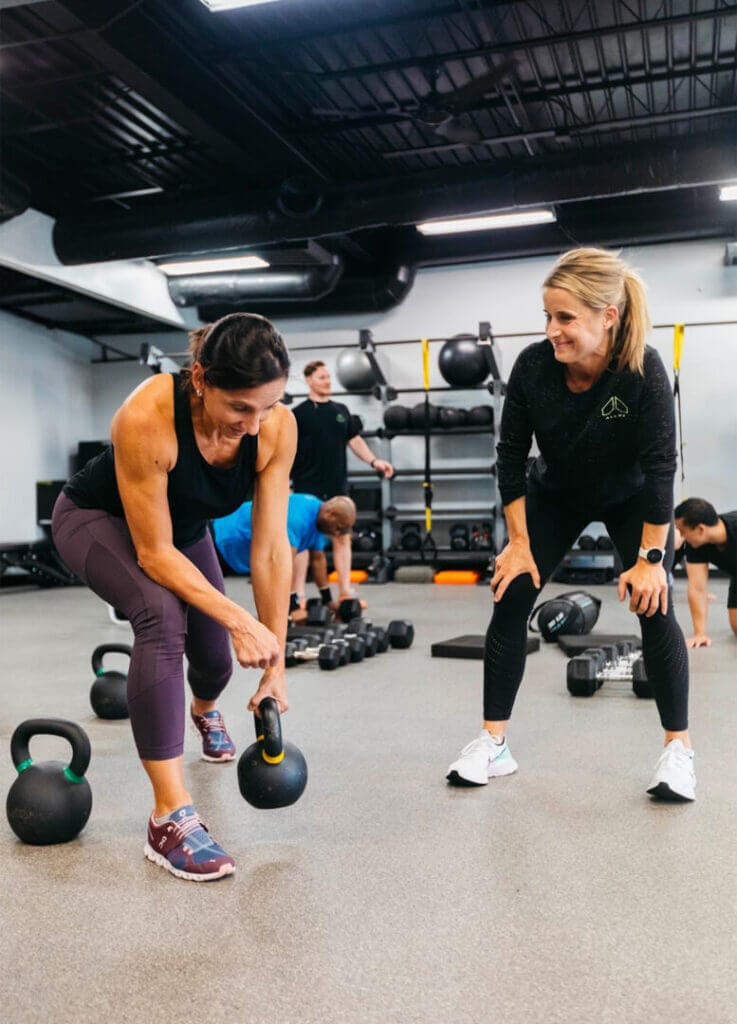 💡 Most first-time gym owners cheap out on investing in brand and aesthetics. This is a mistake.

Small investments in the look and feel of your space can lead to large increases in the value of a gym.

Here's what I mean:
A profitable gym will sell at 2-4x earnings. Let's say that spending an extra $100k making your space nice allows you to charge $50/mo more per member.
If you have 150 members, that's an extra $7,500/mo or $90,000/yr more in revenue.

If that all makes its way to your bottom line, your gym is worth $180,000 to $360,000 more, plus you get to pocket an additional $90,000 every year you're in business.

Sounds like a better return than the S&P 500 to me.
2. Build a good business model
A franchise with a broken model will never scale. Rick says only 2% of franchises ever make it past 100 locations.
To be a good franchisor, you need to build a good business that's replicable.
To me, a good business that's worth replicating is simple and profitable. Alloy is both.
Simplicity
Alloy offers one kind of training, and at capacity, it only requires 2.5 staff members.
To run multi-location well, you need good operators, yet most gym owners struggle with this. Alloy uses a fitness recruiter to help fill key positions.
Profitable
Each location caps at ≈150 members and costs ≈$350/mo.
If we do the math, that's $52,500 in monthly revenue or ≈$600k annually.
If I had to guesstimate the expenses for an average location, it'd look something like this:
staff pay: 2.5 staff members x $50k/yr = $125k
rent: $6k/mo or ≈$75k/yr
other: $10k/mo or ≈$120k/yr
This leaves the owner with ≈$250k in profit. Not bad for a 1,500-2,000 sq ft gym.
---
Lessons for Gym Owners
In the words of Steve Jobs,
Simplicity scales, complexity fails.
Rick has been refining his model over the past 30 years. He said over time, he's made things as simple as possible, which has probably made him way more money than if he tried to overcomplicate his business.
Most gym owners love tinkering and "optimizing" their gyms. They experiment with new systems, new programs, and different packages and prices. It usually does more harm than good.
Most of us are better served getting out of our own way.
So the question is: how can you make your business simpler and easier to run?
To get the answer, watch or listen to Rick's interview on Gym World.
Until next week,
j